Concentrix awards cash donation to Techie Senior Citizens and Retiree Philippines to support the digital inclusion of the Filipino elderly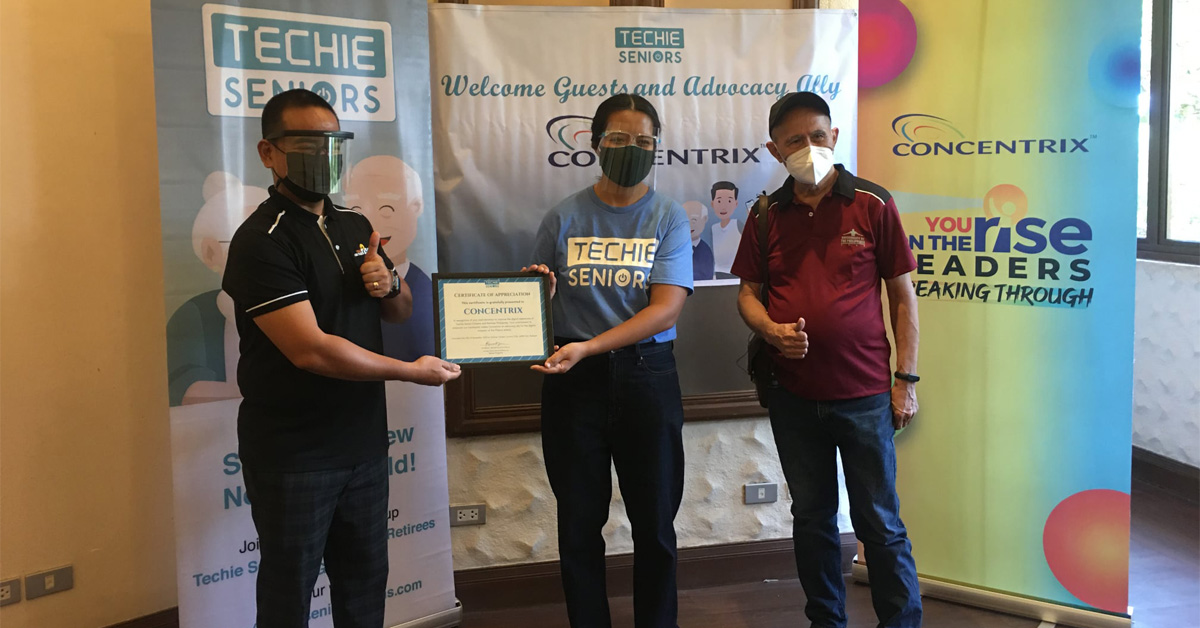 When life changes, change with it.
This mantra is the driving force behind Techie Senior Citizens and Retirees Philippines' (TSCR) resolute commitment to digital inclusion for the Filipino elderly. It's also what drew Concentrix — one of the largest business services companies in the country — to ally with the organization.
Last November 2021, Concentrix formalized its partnership with TSCR through a ₱396,600 donation aimed at supporting and empowering a largely overlooked demographic of digital immigrants. Ms. Koree S. Monteloyola, the founder of TSCR, together with an elderly member of the group, met with Concentrix officials Mr. Alvin Laxa (VP, Service Delivery) and Mr. John Paul Anonuevo (Talent Acquisition—Academe and Industry Linkages) for the turnover ceremony.
Concentrix PH Leaders Give Back: Techie Seniors

Concentrix #YouOnTheRise also partnered with Techie Seniors to empower Senior Citizens by helping them through digital literacy and increasing their employability chances.

Watch this video to learn more about Techie Seniors and the work we do to help them. #DifferentTogether #ConcentrixPH

Posted by Concentrix on Wednesday, December 15, 2021
Online training for real-life circumstances
Established in 2018 by Ms. Monteloyola, TSCR has slowly but surely established its advocacy of providing online support to senior citizens and retirees keen on exploring today's technology. Before the pandemic, the organization had already organized several in-person events for digital literacy and community building. As the coronavirus spread and restrictions were placed on mobility, Ms. Monteloyola continued the program, successfully shifting to online platforms — a real-life test of the organization's merits and goals.
Three online programs were born from the circumstances — Techie Seniors Thursdays, which is streamed via Facebook Live, along with Meet and Greet Sessions, and Techie Seniors Quiz Bee, both using Zoom. Over 35 of these virtual sessions had been conducted since the pandemic, an accomplishment that has proven instrumental in equipping the Filipino elderly member with the tools to navigate the even more widespread plague of fake news, misinformation, and disinformation that have seniors as their most vulnerable targets.
Supporting the marginalized
Parallel to this, Concentrix had also renewed its focus on promoting Diversity, Equity, and Inclusivity for 2021. Its You On The Rise Campaign was one of the key steps in this direction, an initiative that aimed to support worthy organizations representing different social sectors. TSCR became the first candidate for You On The Rise.
Asked why TSCR stood out as a prospective partner, Mr. Alnard Pagulayan, Associate Director for Training at Concentrix, shared that Concentrix "saw a deep connection between our social mobility efforts and tech-infused culture and the digital education focus of TSCR." The company has always advocated for inclusion, particularly for those who belonged to marginalized sectors.
In addition to working with the Filipino elderly through the TSCR partnership, Concentrix had already been providing industry training and employment opportunities to persons with disabilities and senior high school students. They've also worked with the Quezon City LGU and University of the Philippines Open University (UPOU) to adopt a local community and support indigenous people and rural folks, respectively. Suffice to say, partnering with TSRC was inevitable.
Life-long learning for the elderly
However, the support for the Filipino elderly is not limited to mere financial assistance. TSCR puts a premium on education, one that helps senior citizens and retirees adapt to a fast-paced and ever-changing digital environment. It only made sense for Concentrix to sponsor learning sessions, too. Last February, the company's University Talent Team organized three consecutive Fridays of digital literacy training for TSCR members. Topics included Financial Transactions Online, Navigating Your Device, and PayPal Quick Guide.
Prior to Concentrix's learning program, TSCR collaborated with Looking For Juan for a session on fighting fake news, and Government Watch for a citizenship education session on voting. Outside of these online classes, TSCR also hosts competitions on writing and digital design, with the members' winning entries featured on the organization's website.
All these programs and events align with the common vision of transforming the system for the better for the Filipino elderly. Digital ageism remains a huge obstacle for older adults. This poses important questions in the place of older adults, especially within the context of the United Nations' Sustainable Development Goals (SDGs), a blueprint that both TSCR and Concentrix are keen to follow. As HelpAge International emphasizes, SGDs promise that no one gets left behind and so "entails ensuring that every individual, including every older person, is included in development efforts."
The future is promising
So what's next for TSCR and Concentrix? The cash donation only marks the start of the partnership between these two organizations and their goal of realizing a shared vision. For Concentrix, this means maintaining community linkages to provide upskilling and employment opportunities to partner organizations like TSCR. These follow-up activities ensure that the stakeholders' needs are equitably addressed.
TSCR, on the other hand, continues to refine its programs by actively monitoring its members' attitudes and responses to the various learning sessions and events. It's also focused on implementing a Learning Management System (LMS) to further improve the digital literacy of its current and future members through online short courses.
While the task seems daunting, Ms. Monteloyola is optimistic. She shares how senior citizens are patient and dedicated to learning technical skills and concepts. The growing online community has also seen members support each other, developing the trust and friendship necessary in the realm of technology adoption. In a way, TSCR has not only built an age-inclusive collective but also cultivated the social capital needed to mitigate the effects of ageism in general. Concentrix is only grateful to have invested in something as invaluable as bridging the gap between the old and new.