The Philippine elections now loom large on the horizon. While new obstacles have emerged, several existing challenges remain unaddressed. Aside from issues like election-related fraud and violence, disinformation campaigns and fake news also plague the social landscape, particularly on online platforms. Moreover, the 2022 elections will play out amidst an ongoing COVID-19 pandemic. Navigating this crucial democratic process has become even more complex. Regardless, it remains apt to ask how we can vote wisely.
It's the same question posed by members of Techie Senior Citizens and Retirees Philippines.
A Collective Effort
Responsiveness to the needs of its community characterizes Techie Seniors. As such, the organization partnered with Government Watch (G-Watch) for a citizenship education session last 25 September 2021, with a focus on the upcoming elections. The Zoom Meet and Greet session, entitled Learn How to Vote Wisely, is also integrated into the Making Election an Accountability Platform (MEAP) initiative of G-Watch.
Collective best described the activity. Instead of a spoon-fed academic course, G-Watch employed a participatory approach to answering the question of how to vote wisely. Ms. Mary Cindy Uy, the local coordinator in Dumaguete City and advisory board member of G-Watch, facilitated the discussion with all 11 senior citizen participants.
Ms. Victoria Maglanque, G-Watch Core Executive Board member and MEAP program office, monitored the session. Meanwhile, Techie Seniors Founder Ms. Koree Monteloyola moderated the activity, which was held in Zoom.
Online Tools for Engagement
For a more engaging conversation, Ms. Monteloyola also encouraged the use of Mentimeter for the discussions. Mentimeter is a platform designed to make meetings more interactive through live polls, quizzes, and word clouds. Through Mentimeter and Zoom integration, answers were seen by the participants in real-time as they were submitted by the elderly respondents. It made the session more interactive and engaging since their answers were presented visually right away.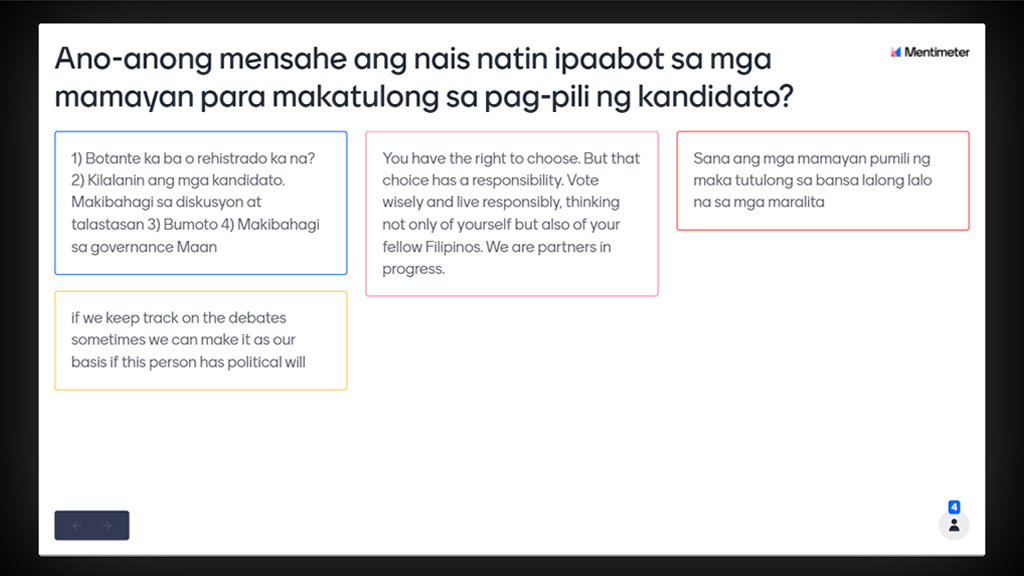 The elderly participants were taught how to use Mentimeter a week before the session for the voters' education started, through Episode #23 of Techie Seniors Thursdays, highlighting not only the trust Techie Seniors have in its members but proving the seniors' ability to master digital applications with confidence and ease. This, of course, is on top of the regular Zoom chat box feature.
Identifying National and Local Issues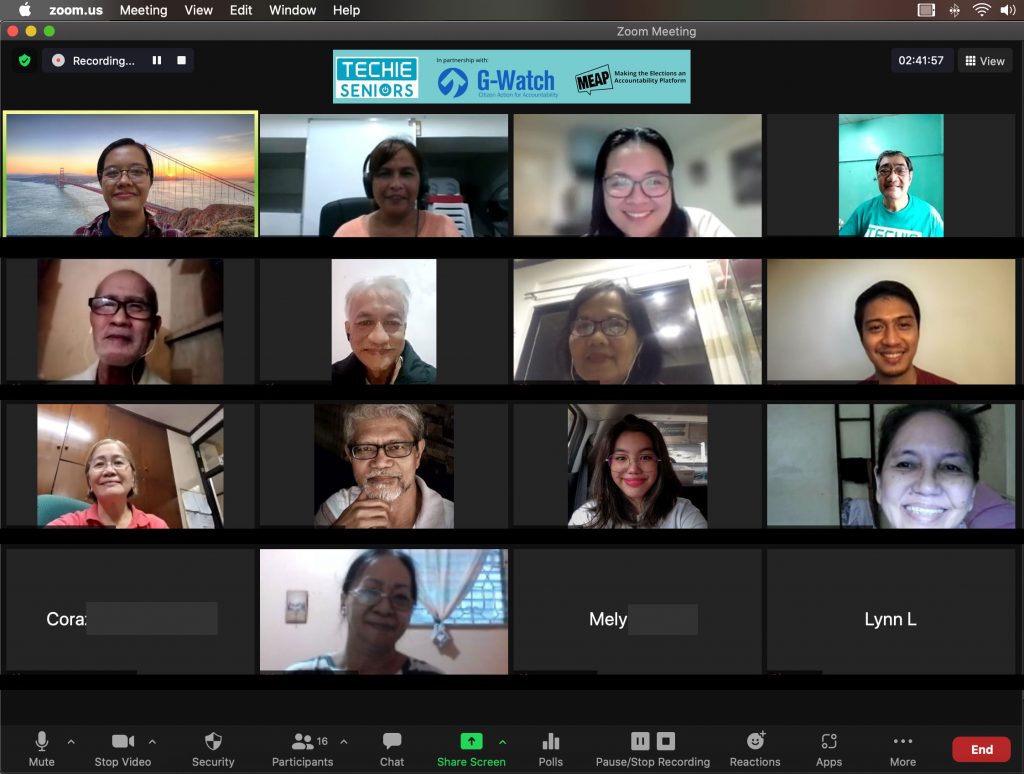 Ms. Uy from G-Watch then began the session by allowing the participants to introduce themselves, talk about the person they admire the most, and share their expectations for the activity. By asking these three introductory questions, G-Watch set the tone for a discussion where everyone's viewpoint was heard and the participant's agency acknowledged.
This was followed by a series of questions designed to contextualize the Philippine elections. Crucial to anchoring the topic was the first. What are the critical issues faced by the country and local communities? Through both Mentimeter and the Zoom chat box, existing social issues—complicated by the pandemic—emerged as the most urgent of concerns of our Techie Senior participants.
Fer Santos, for instance, identified COVID-19 as the most pressing problem but that in the long-term, "employment, livelihood, and education" were areas of consideration, too. Leila De Asis echoed this concern, writing the "inability of the municipal officers to respond to the immediate needs of their constituents especially during this pandemic and access to social and health services" was problematic. Even the distribution of cash subsidies during the lockdowns was problematic, according to the participants.
According to Ms. Uy, all these sentiments are valid and interrelated. Based on the recent G-Watch monitoring, inefficiencies plagued the country's pandemic response, with resources being spent on infrastructure and security instead of health and social services.
In discussing persistent challenges that affect our elections, Techie Senior members identified some major concerns. These include a lack of citizenship education, the persistence of patronage-politics, and the presence of deeply embedded feudal-work relationships because of poverty. Many of today's voters, Fer Santos observed, are also disinterested in the elections and fail to see the value even of a single vote.
Voting Behavior and Attitudes
With the context provided, G-Watch asked the participants what should people look for in a candidate? How should they vote? Question about their criteria when choosing their leaders, our senior citizen participants offered a broad set of standards. But common to all was the importance of a candidate's track record, platform, and experience.
Manly Lopez opines that people should "stop voting simply because of a candidate's surname, especially if he or she has no executive, leadership or political experience". On Mentimeter, Maan Mananzan expressed that those gunning for executive positions in government must "bring their advocacies and core values to the fore" as well. Meanwhile, Elizabeth Lanuza added that there's a need for candidates with honesty and integrity.
But how will platform-based elections be encouraged over the current personality-based voting? Here, the senior citizens offered different suggestions. One mentioned the need for a candidate's profile to be publicly available and readily accessible. Another recommended heightened information campaigns, especially to combat fake news about candidates that may influence voters.
Manly Garcia again shared the need to be vocal and proud of your vote, even if others may disagree with you. This, he says, opens up spaces for debate and discussion. Elnora Eugenio, on the other hand, reminded participants to carry out their own discerning research about the candidates, especially given today's almost unbridled access to information via the Internet. This information should then be discussed within the senior citizen's family and immediate community. Another member, Ed Rivo, also advised that one's moral compass—and not just practical information—should guide citizens as they write on their ballots.
Techie Senior members also advocated social media as a platform for promoting their choice of candidates. These tools, after all, are free. In a way, everyone can become a social influencer, especially when it comes to matters of national importance like the elections. But this confidence and enthusiasm in using social media platforms can also be attributed to a senior citizen community that is empowered and digitally literate, too—hence the role and purpose of Techie Seniors.
During the exchange, our senior citizen participants even highlighted the need for civil discussions in these online platforms, while identifying those who hold opposing political views as partners—not as adversaries—in seeking reform and accountability through elections.
Learning From Seniors
In closing the discussion, Ms. Uy recommended that our senior citizens develop advocacies regarding the elections. These could be as simple as information campaigns on social media platforms. Ms. Maglanque from MEAP, on the other hand, reminded the senior citizens that citizenship does not revolve solely around the elections. Active citizenship, she shared, goes beyond the actual day of putting in one's vote. For instance, participation in online fora within and outside the election period, like the Meet and Greet sessions, are also meaningful avenues for citizen engagement.
The activity also linked issues affecting the country and a person's community to how individuals vote. With this as an anchor, the importance of platform-based elections that address these problems was further concretized. As the discussion progressed with each question, criteria like track record and experience were also agreed upon by our senior citizens. G-Watch's participatory approach to the session allowed for these themes and answers to emerge naturally, while being guided by key facts about the elections from G-Watch's research.
The sentiments and ideas from the session offered rich insights into the views of a demographic that is often underrepresented in media, or misunderstood because of the generational divide in politics. It also underscored the need to listen to the pulse of an audience that has experienced several elections. While the youth are often branded as the hope of the next generation, it would be a mistake to dismiss the role of senior citizens in determining the next Philippine leaders. Indeed, there is wisdom in years, and as Ms. Uy remarked, brilliance grows with age.
Learn To Vote Wisely is the 7th Meet and Greet session organized by Techie Senior Citizens. These learning sessions are exclusive to members of the community.
Government Watch (G-Watch), which was established in 2000, is formerly a social accountability program of a university. Today, it is transitioning to an independent action research organization embedded in constituencies of civic and advocacy-oriented organizations all over the Philippines. Its aims include contributing to the deepening of democracy through the scaling of accountability and citizen empowerment.
Making Elections an Accountability Platform (MEAP), as an initiative of G-Watch, organizes and facilitates citizenship education sessions. These sessions allow for community-based conversations where citizens collectively reflect, assess, and envision the situation of the country and its future to prepare for the elections as part of a broader accountability ecosystem.