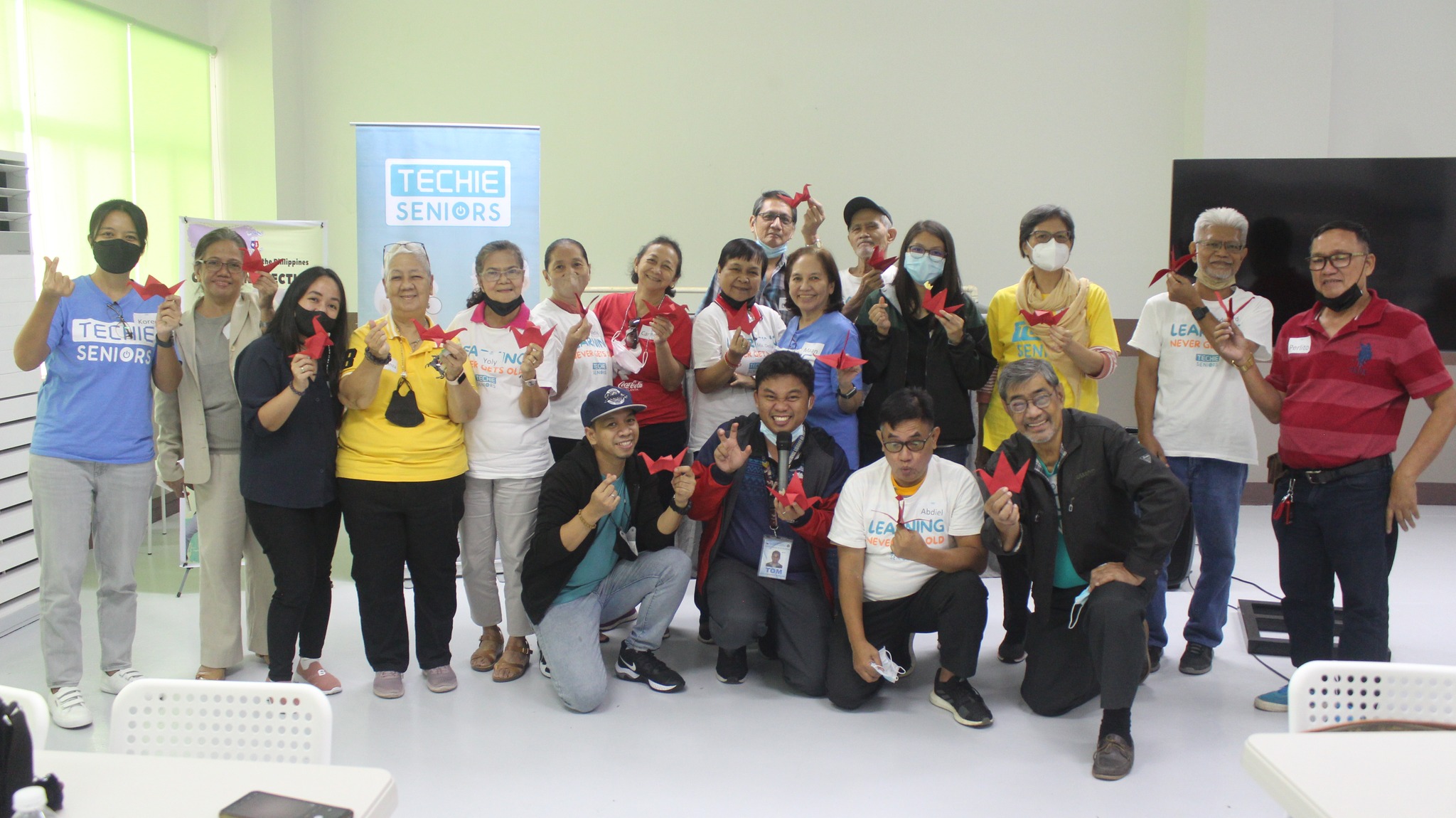 The COVID-19 pandemic brought uncertainty to many organizations and their participants around the world, and our community of Filipino senior citizens was not spared. Techie Senior Citizens and Retirees  Philippines (Techie Seniors PH) was able to cope and thrive amidst the challenges brought about by the pandemic because the digital transformation of its members has been a priority. It continuously found ways and developed activities to improve the digital literacy skills of elderly Filipinos, which have an impact on various aspects of their lives in the digital age.
Every month, there are at least two online events for the welfare of the members, to keep them engaged, and to offer a safe space to socialize with fellow elderly persons online or offline. The team behind Techie Seniors was able to design solutions with support from different private and government institutions like Canva, Concentrix, Looking for Juan, KonsultaMD, Ashoka Philippines, the National Library and National Museum of the Philippines & National Commission of Senior Citizens, who believe that being a force for good is essential during these trying times
What happened in 2022?
Monthly Techie Seniors Quiz Bee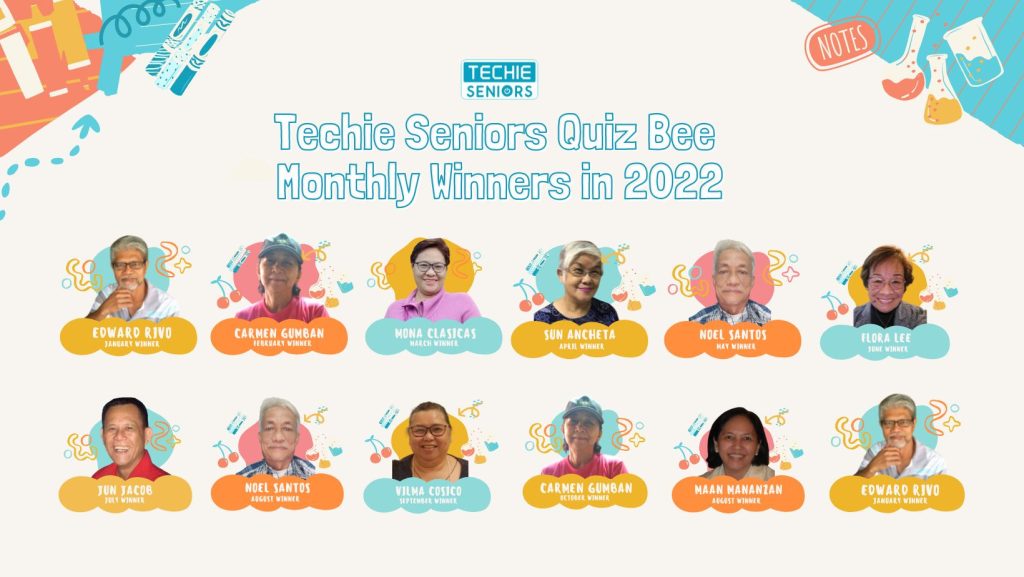 In January 2022, the "experimental" monthly quiz bee started. Its objective has been to encourage members to participate actively in online leisure activities to improve their memory, hand-eye coordination, and verify misinformation or fake news. Any member who has been with the community for at least two months is eligible to join the game. The quiz was through Kahoot! and Zoom. Every time there is a new player, there is a simple guide/ demo before the game starts to ensure everyone is on the same page. The questions are about technology, general knowledge, history, and current events. As of December 2022, there are nine winners; they will proceed with the finals in February 2023.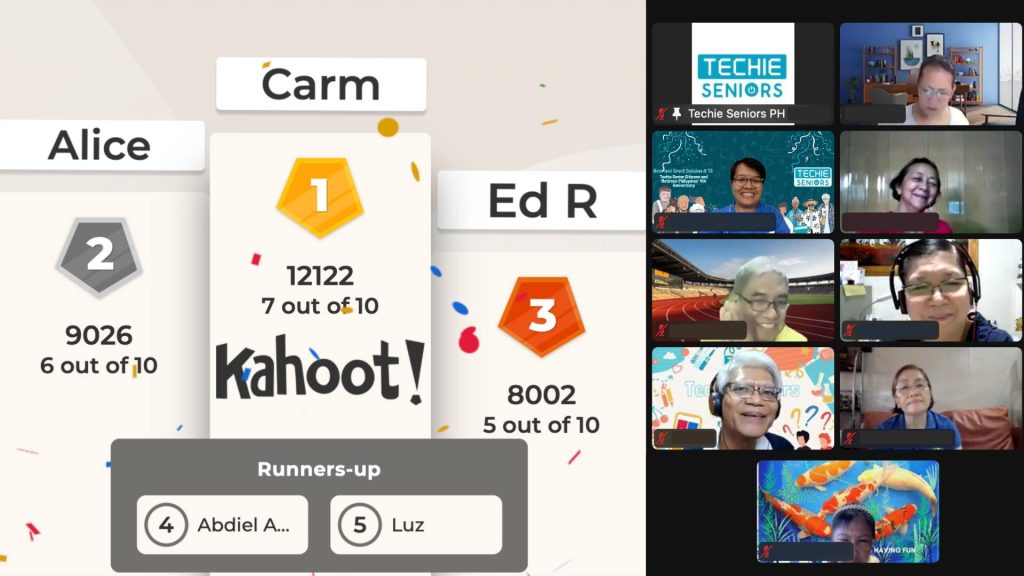 Techie Seniors Training (TST)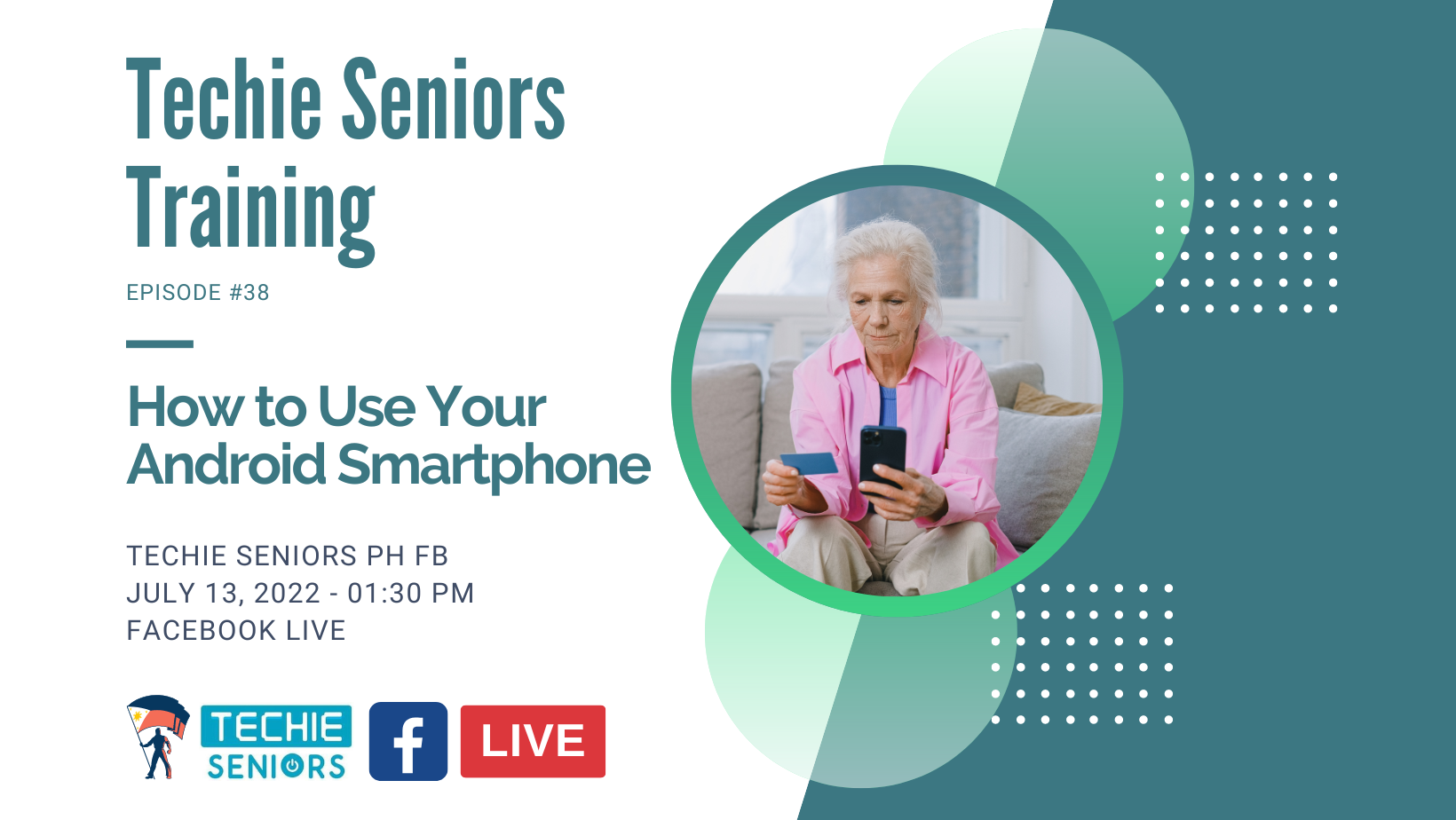 The Techie Seniors Training, formerly named Techie Seniors Thursday, is a training series to teach senior citizens about digital literacy or relevant knowledge and skills for their everyday lives through online lectures and demos. Most of the topics are from the suggestions of the members, based on their needs and preferences. Aside from the members, FB followers can also learn because these are free and broadcasted through Facebook Live; videos are available on-demand 24/7 under the Videos section of the community's Facebook page or YouTube Channel.
A total of 18 online trainings (TSTs) were conducted in 2022; some topics include using Google Docs, Meet, Hangouts, Slides, Discord, Kahoot, Canva, and android/smartphones. Additional to these are the presentation on basic graphic design, government programs, and other health-related topics. One of the trainers, Ms. Nice Quejano, Community Manager of Canva Philippines, demonstrated how to create a simple design on Canva. She also presented some of the opportunities for content and design creation.
Atty. Franklin Quijano, the chairperson and chief executive director of the National Commission of Senior Citizens (NCSC), virtually discussed the commission's existing and future programs and services (Techie Seniors Training #41 – Orientation on NCSC Programs & Activities) . 
Before 2022 ended, the sim registration training was conducted to shed light on the numerous and confusing information shared on social media. The seniors also learned to determine a scam message or email regarding the sim registration. (Techie Seniors Training 44: SIM Registration in the Philippines)
To date, there are a total of 44 Techie Seniors Trainings.
Online Meet-and-Greet Sessions
Aside from the digital literacy skills trainings, Techie Seniors also conducted online meet-and-greet sessions wherein local personalities are invited to discuss their respective expertise and how their expertise can help with the current issues and concerns of senior citizens. Renowned Filipino historians Xiao Chua and Ambeth Ocampo discussed history, misinformation, and discerning fake news. During the open forum, they chatted and entertained the questions from the participants. They both expressed their advocacy towards the elderly community: to keep them informed/savvy digital citizens, and if they have an opinion, it should be based on facts.
During the Elderly Filipino week, UP-Manila professor and psychiatrist Dr. Trina de la Llana talked about common mental health issues in the elderly community, particularly depression, anxiety, and loneliness, as well as the pros and cons of using social media. She briefly touched on Alzheimer's disease because participants are curious about its symptoms and management.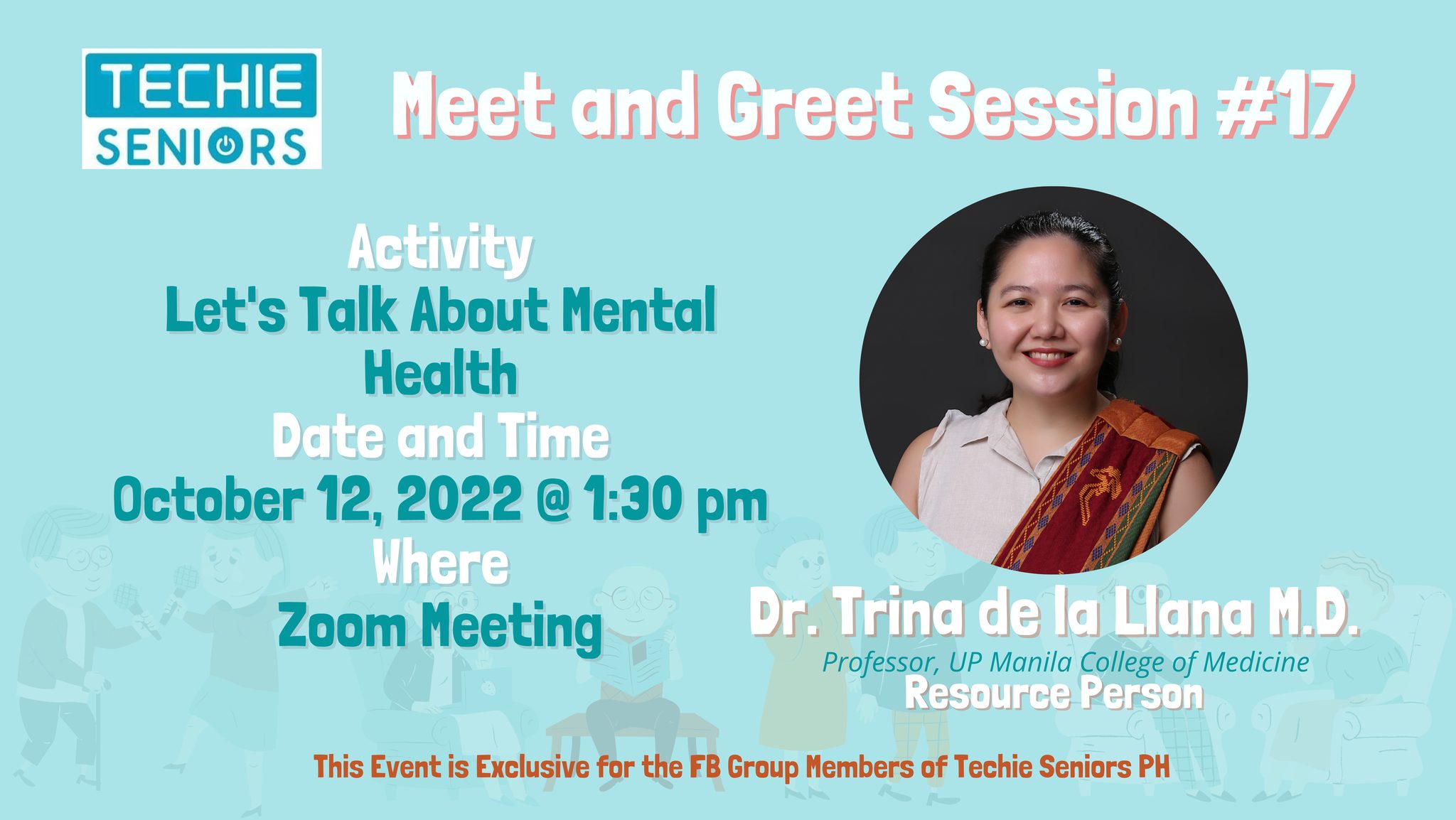 The meet-and-greet session series proved that many popular personalities and experts are passionate about helping the elderly community.
Face-to-face Meet-ups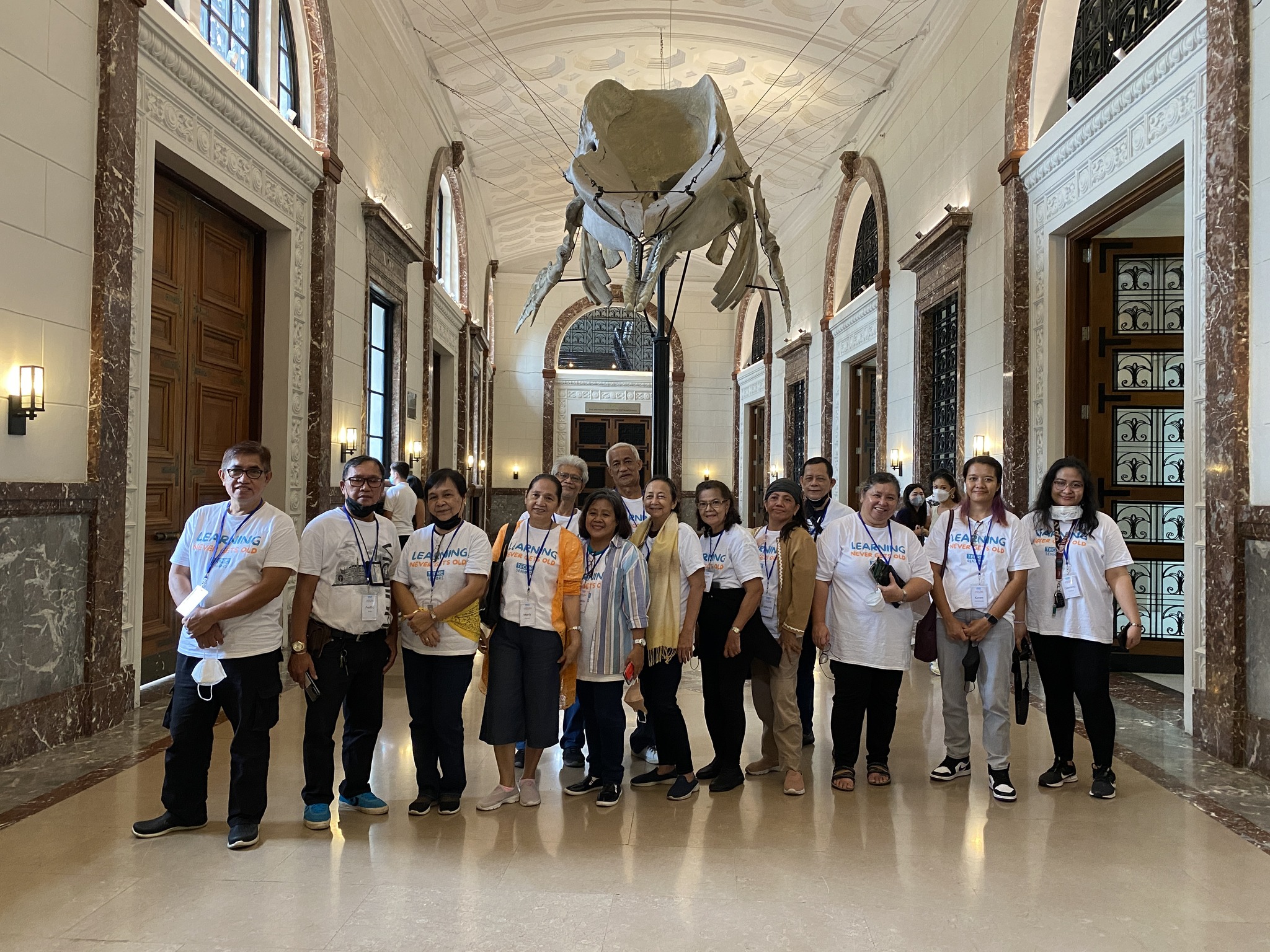 Two face-to-face events were pushed through this year through the generosity and altruism of two national agencies. The organization abides by the pandemic restrictions and protocol to ensure the safety of the participants.
Techie Seniors conducted its first face-to-face event since the pandemic started at the National Museum of Natural History last August 20, 2022. Eighteen Techie Seniors members and their chaperones joined the event. Founder Koree Monteloyola conducted a smartphone photography workshop for the first part of the event. A photo challenge wherein senior citizens took before and after photos inside the museum was also conducted. The National Museum also provided a free guided tour and a storytelling session for the senior citizens in the afternoon. (Facebook Photo Album: Community Meetup at the National Museum of Natural History)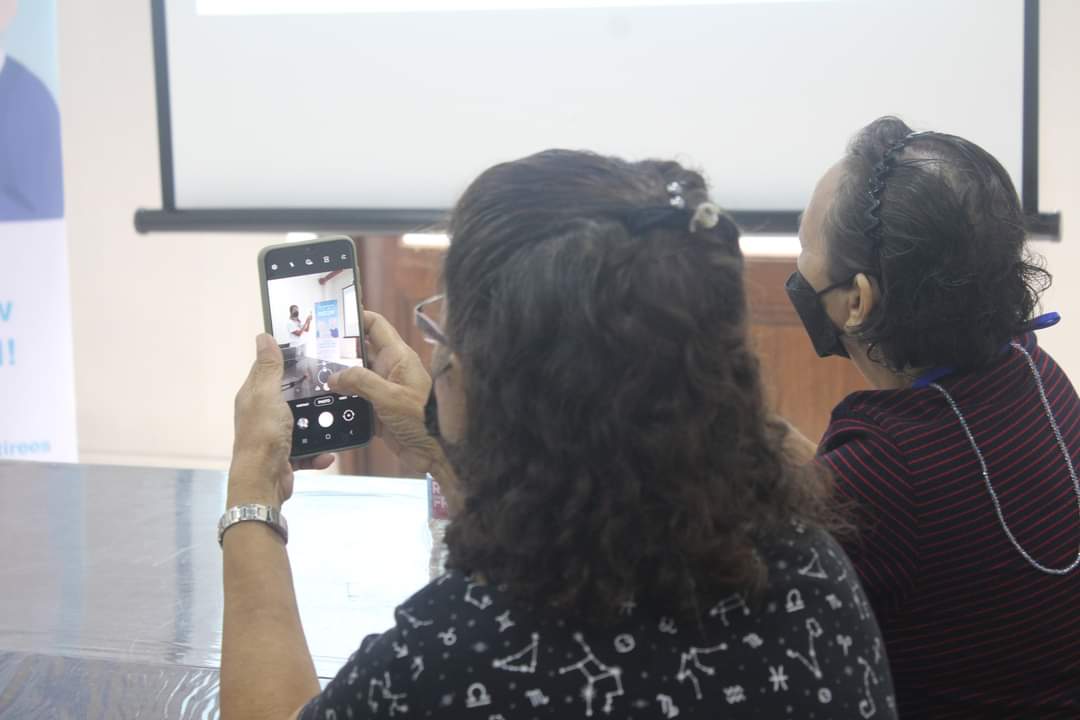 Similar to this event, the National Library of the Philippines provided a guided tour and various activities such as puppetry, book care workshop, and origami-making. As a token of gratitude, Ms. Monteloyola conducted a Canva 101 presentation for the elderly employees of the library. (Facebook Photo Album: Community Meetup at the National Library of the PH Nov 2022)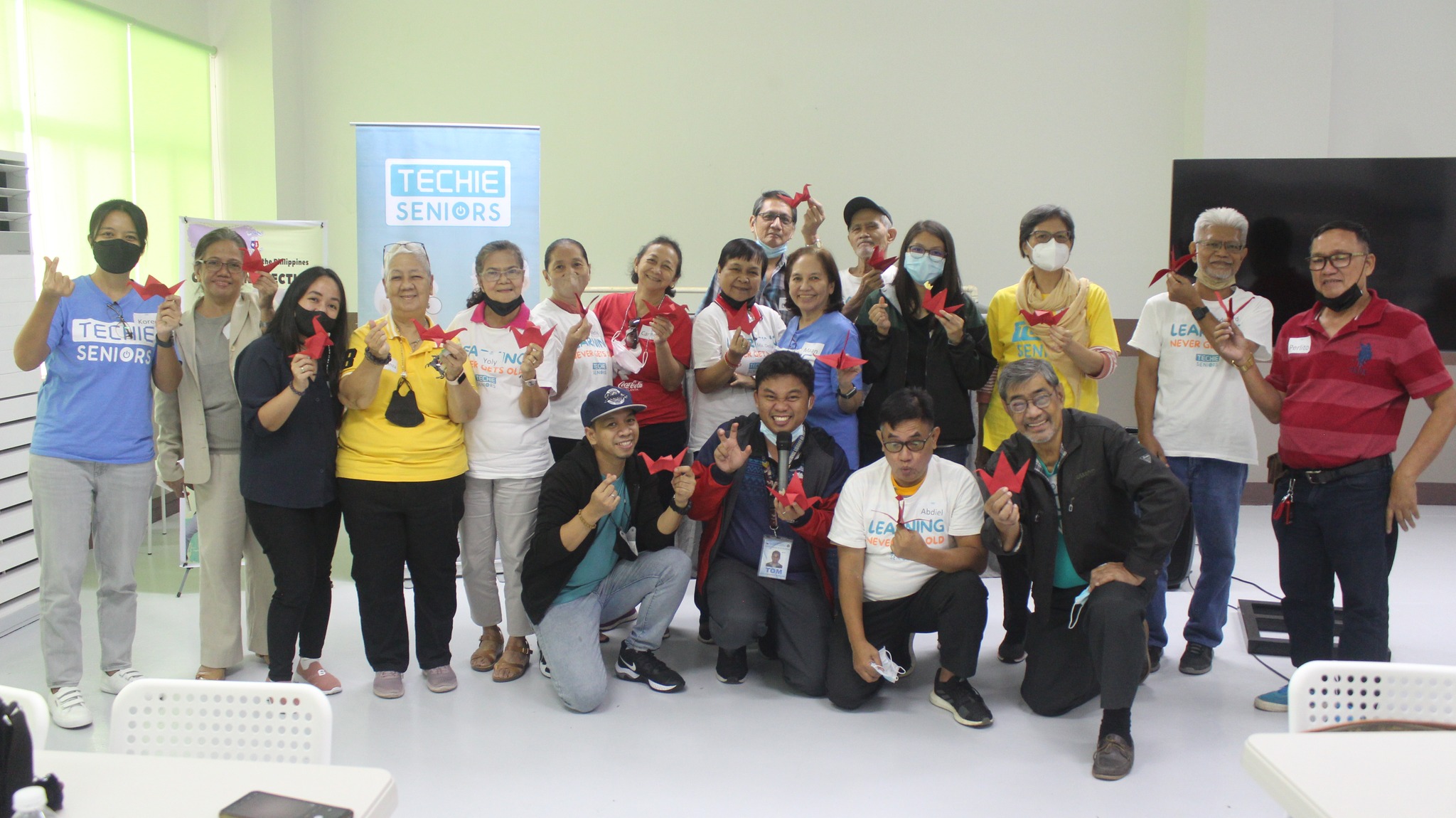 There are a lot of events/trainings in store for members focusing on improving knowledge on freelancing and entrepreneurship, digital marketing for businesses, and cybersecurity. Techie Seniors will start to offer digital literacy trainings/courses to institutions under its Retirement by Design program. These nano courses will help future and existing retirees plan and design their retirement life. In its fifth year, the management team is looking forward to tapping qualified members to showcase their skills and encourage them to give back to the community (Seniors helping seniors).
To date, Techie Seniors comprises more than 500 senior citizens and retirees in and outside the Philippines.