People all across the world are learning coding. While most of them are young people, there are those who are old enough to be our lolos and lolas. Who says age has anything to do with learning new things, right?
On December 7, 2019, our Techie Seniors jumped on the bandwagon to explore the world of code and perhaps even develop games and apps for their grandkids during a free digital literacy seminar for Filipino seniors we held with EveryJuan Can Code (ECC). The event would not have been possible without the support of Kairos IT Services and Power Mac Business Systems, Inc. (PBSI), who sponsored the food and venue.
Time for EveryJuan to Code
ECC is a movement that aims to raise awareness on the importance of coding in our lives and why every Juan should learn how to code. Zette Oyardo of ECC cited a study by HackerRank, a California-based service that runs tests for developers, on the country with the best web developers, which ranked the Philippines 46th out of 50 countries. Zette highlighted the need to learn coding since Filipinos are big users of technology, especially social media.
ECC believes that every Filipino can learn how to code. ECC's Facebook bio couldn't have captured their advocacy any better: "It's time that the country take serious notice of our people's ability to not just consume apps and games but create them as well."
Block programming
Zette Oyardo and Joie Quides-Mangalindan, also from ECC, taught our seniors and their grandkids the basics of block programming with Tynker and ScratchJr using an iPad.
These tools made coding quite an adventure not just for the kids but also for our Senior Techies. They simply had to "drag and drop" or connect blocks together (hence the term) to come up with their own programs.
Fun day for everyone
Our seniors and their grandkids had loads of fun programming animation with Tynker, a coding platform for kids. They were also up to the challenge of programming their own game with ScratchJr, an introductory programming language for young children.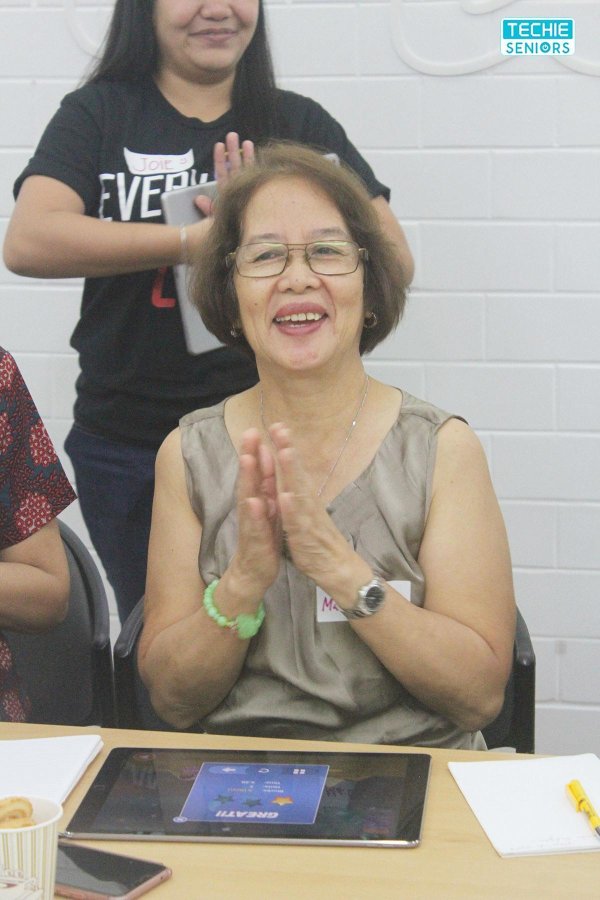 Maria Evelyn Antivola, a Techie Senior newbie, said she enjoyed the session and looks forward to attending more events. "Dapat tayong mga seniors, mag-upgrade na din. Let's keep up with millennials," she added.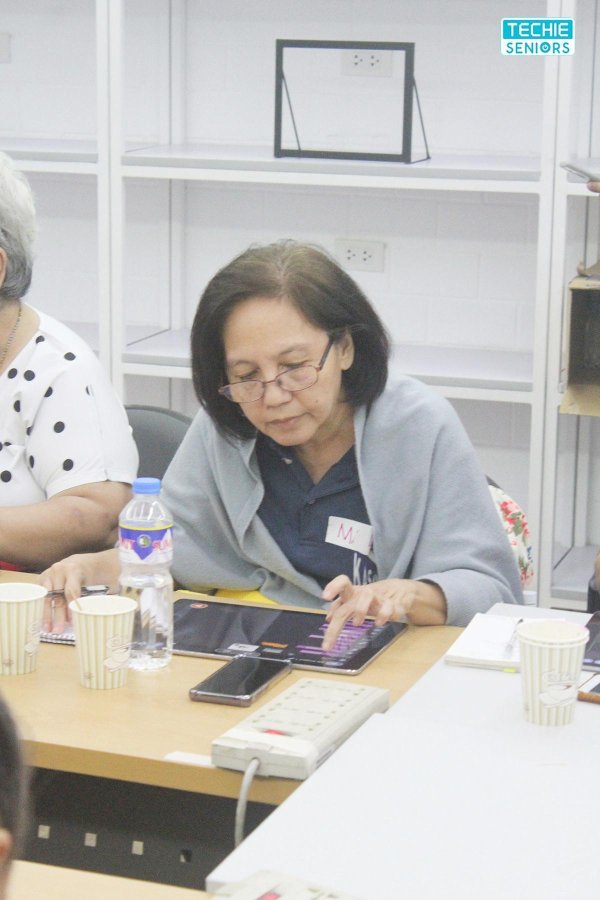 "Fun" was the word Maan Mananzan, a Techie Senior veteran, used to describe her afternoon. She sees the importance of learning coding as an exercise in logic. Her family actually plans to enroll both her grandkids in coding classes and Maan wants to learn with them.
Teacher Zette said the group was "one of a kind."
But it wasn't just the participants who enjoyed the session. Teacher Zette said the group was "one of a kind." Despite their age, Zette said the Techie Seniors were advanced when it came to technology and that she had no trouble teaching our seniors. Ma'am Joie shared the sentiment, adding that the name "Techie Seniors" fit the group well. She also emphasized the importance of learning coding, highlighting how it stimulates the brain and teaches you how to think.
Art Dalumpines III, marketing officer of PBSI, pointed out how our everyday lives are inexplicably surrounded by advancing technology. We live in a digital age, he said, where we are hooked to our phones and gadgets for most of the day.
We shouldn't be intimidated to learn coding. Instead, we should be more willing to understand how it works and how it impacts our society. Indeed, EveryJuan can code and EveryJuan should.
Techie Seniors would like to give a big shoutout to Power Mac Center for being our partner in social change and supporting our advocacy in digital literacy for seniors.
Our doors are open to all senior citizens and retirees who want to explore the internet and learn more about technology with us. Get in touch with us here for more information and check out our Facebook page for more updates on upcoming events.