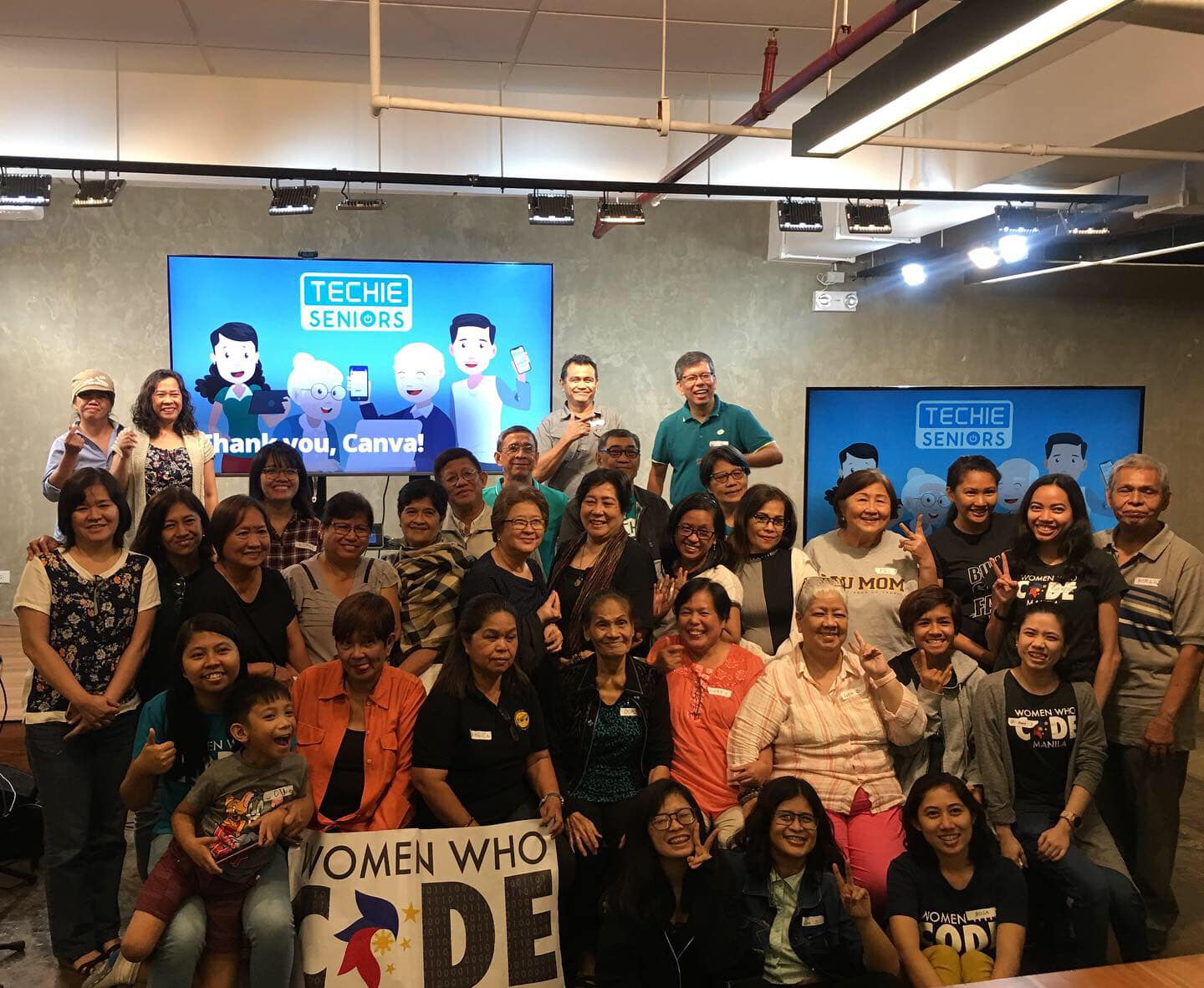 Imagine that your lolo or lola without any knowledge of the internet, is now creating his or her own blog from scratch—this, so far, has been the journey of our techie senior citizens.
Blogging 101, was the fifth free seminar for our young at heart tech enthusiasts, this time organized with Women Who Code Manila (WWCode Manila). With the help of Kairos IT Services and the generosity of Canva Philippines, the seminar was held again at the Canva Manila Office last September 14, 2019.
Thank you, WWCode Manila!
As a support group that provides a platform for the elderly to enhance their digital literacy,the Techie Seniors and Retirees Philippines has found a fitting event co-organizer with WWCode Manila. WWCode Manila shares the same passion with our techie senior citizens with its commitment in uplifting women's status in technology. Like the techie seniors' group, it also provides free trainings, discussions and seminars to women who wants to improve their technology-based skills and knowledge.
The seminar discussed the basics of blogging and design and creating an email account. It also provided an eye-opener discussion on protecting oneself from internet scams and spotting fake news on the web. A huge chunk of the discussions was facilitated by WWCode Manila volunteers. Azel Tan taught the seniors on the basics of blogging. Rosalie Rioja reviewed our seniors' knowledge on how to create and manage an email account. Denice Vitorio equipped them with safety precautions in protecting oneself from internet fraud. Koree Monteloyola of Kairos IT Services and Techie Seniors and Retirees Philippines provided steps and criteria on how to spot fake news.
Internet Security and Fake News
Internet security has been a longstanding problem on the World Wide Web. With the growing population of internet users believing in fake news, internet scammers have taken advantage of the situation. In Denice's discussion, she taught that scams usually come from malicious emails, dubious identities in online dating sites, and unexpected prize and lottery winning messages.
She said that internet fraud can be avoided if we withhold our trust from people that we just met online. She also advised the seniors against giving and posting personal information on social media sites that can be used to hack internet accounts.
Koree emphasized that fake news is being spread deliberately to misinform or create confusion to influence people's views. Fake news is usually used to push a political agenda or sell a product. To check suspected fake news, she recommended fact-checking sites that seniors can visit. She also advised to take note of the date, lay-out and web address of the source of the news.
Blogging 101
It is important for seniors to be equipped to identify fake news before going into blogging. Sharing accurate information is a responsibility that must be taken seriously on the World Wide Web.
In her discussion, Azel demystified blogging for our seniors. She enumerated tools and platforms that can be used to create blogs. Our senior participants were amazed by the samples of creatively done blogs Azel showed. She showed how simple it is to create a blog using WordPress by demonstrating the process step-by-step. Most of the seniors were surprised that creating a blog is not as complicated as they thought it would be. With their knowledge in creating designs in Canva, most of them are excited to start working on their blogs.
One of the senior participants, Berwyn Narvas, who came all the way from San Pedro, Laguna said that he wants to try to create a blog to write about history. When asked about what historical topic he wants to write in his blog, he answered that he is interested in writing about the Martial Law era. He pointed out the importance of sharing past lessons with future generations.
Techie Senior Citizens and Retirees PH together with Kairos IT Services are looking for venue and event partners that can help their cause in providing opportunities for senior citizens to develop their knowledge and capacity in using the internet.
Techie Seniors and Retirees PH Group is a growing community of retirees, seniors, and young at heart technology enthusiasts who help and inspire each other in learning anything and everything about the internet. Anyone in their retiring and senior age is welcome and encouraged to join the group. You may reach us at https://techieseniorcitizens.com/contact/. You may also find us on Facebook.